WARNING: Spoilers for Clannad and Clannad ~After Story~ ahead!
Haunted Happiness
"Fun things. Happy things. They'll all eventually change someday, you know? But can you still love this place?" ~ Nagisa Furukawa
"Just go and find more. All you have to do is find other fun and happy things. It's not so hard." ~ Tomoya Okazaki
Clannad opens with this exchange between two classmates. As Nagisa and Tomoya go through high school, friendship, love, and eventually marriage, they accumulate fond memories together. However, when Nagisa dies after giving birth to their daughter Ushio, Tomoya discovers that it is not so easy to just "find other fun and happy things." In fact, he falls into a deep depression as everything that he once found fun and happy now haunts him.
This anime really resonated with me in its poignant portrayal of normal life and how a loss can make mundane situations hurt so much. My father's diagnosis of late-stage cancer in 2017 was a rude awakening that even ordinary, everyday moments cannot be taken for granted. After learning about the diagnosis, I struggled with being able to enjoy time with my family. "Moments" embodies my wish that we are all able to summon the courage to continue making happy memories, knowing that they may become sad, nostalgic ones someday.
Creative Process
Music
Variations of the theme "Nagisa" play throughout Clannad, perhaps most notably in the ending song "Dango Daikazoku." Personally, though, my favorite version is "Small Palms" — it feels like a more mature version of the classic dango song and fittingly plays at the end of the last episode of Clannad ~After Story~ after Tomoya decides not to regret meeting Nagisa and his wish for a happy and healthy family is granted. When I heard Dima Lancaster's English cover, being able to understand the lyrics added a new level of appreciation for the song and I knew I had to skate to it. The cut of the music I used features the following lyrics:
Far away, far away
I hear the wind gently caress the fields
I walked along this empty road
Searching for pieces of our fond memories
Everything's sad
Can we forget?
All the moments that have led us here
I still remember them
And I always will
…
In this tiny hand of yours
I know there is the strength
That will someday surely surpass our own
In the tears that you have shed I see reflections of
The sweetest smile I've ever known
Even if my hand is small and we are far apart
I reach out to you and we will walk this road
All the precious memories will stay in our hearts
As the new day arrives
We both know the time has come for us to say goodbye
As this tiny of hand of yours passes us by
Everything will change as this new season finally comes
But always know — I was grateful
Fun fact: For most of figure skating history, music with vocals were banned in competition, which has kept the aesthetics of competitive figure skating within rigid boundaries. The 2018 Olympics were actually the first Olympics in which singles and pairs figure skaters were allowed to skate to music with vocals! Having the opportunity to perform "Moments" as my Senior Short Program at U.S. Figure Skating intercollegiate competitions was exciting as I could finally skate to a song with lyrics in competition and experience the sport of figure skating evolving with the times.
Choreography
Similar to my "Gate of Steiner" program, "Moments" had to include a certain composition of technical elements in order to be used in competition, so I asked Elin Schran to help me choreograph again. This time we focused on making every movement meaningful, following the lyrics in the music, and building an atmosphere of introspection and yearning.
While I did not represent any particular character from Clannad, I channeled the energy of the Girl in the Illusionary World who turns out to be Ushio. In the Illusionary World, Ushio and her father Tomoya, as a girl and a robot, struggle to survive and gather enough orbs to grant a wish. Their father-daughter bond felt relatable and significant to me.
Outfit
I have actually worn various different outfits for this program, but the one I wore for the performance featured here on Anime on Ice feels the most fitting. The simplicity of the outfit suits the ordinariness of the moments that I reminisce while skating this routine. The dress also has a similar silhouette as the Girl in the Illusionary World. Unfortunately, more formal and elaborate costumes are expected in competition, so I did not consistently wear this outfit.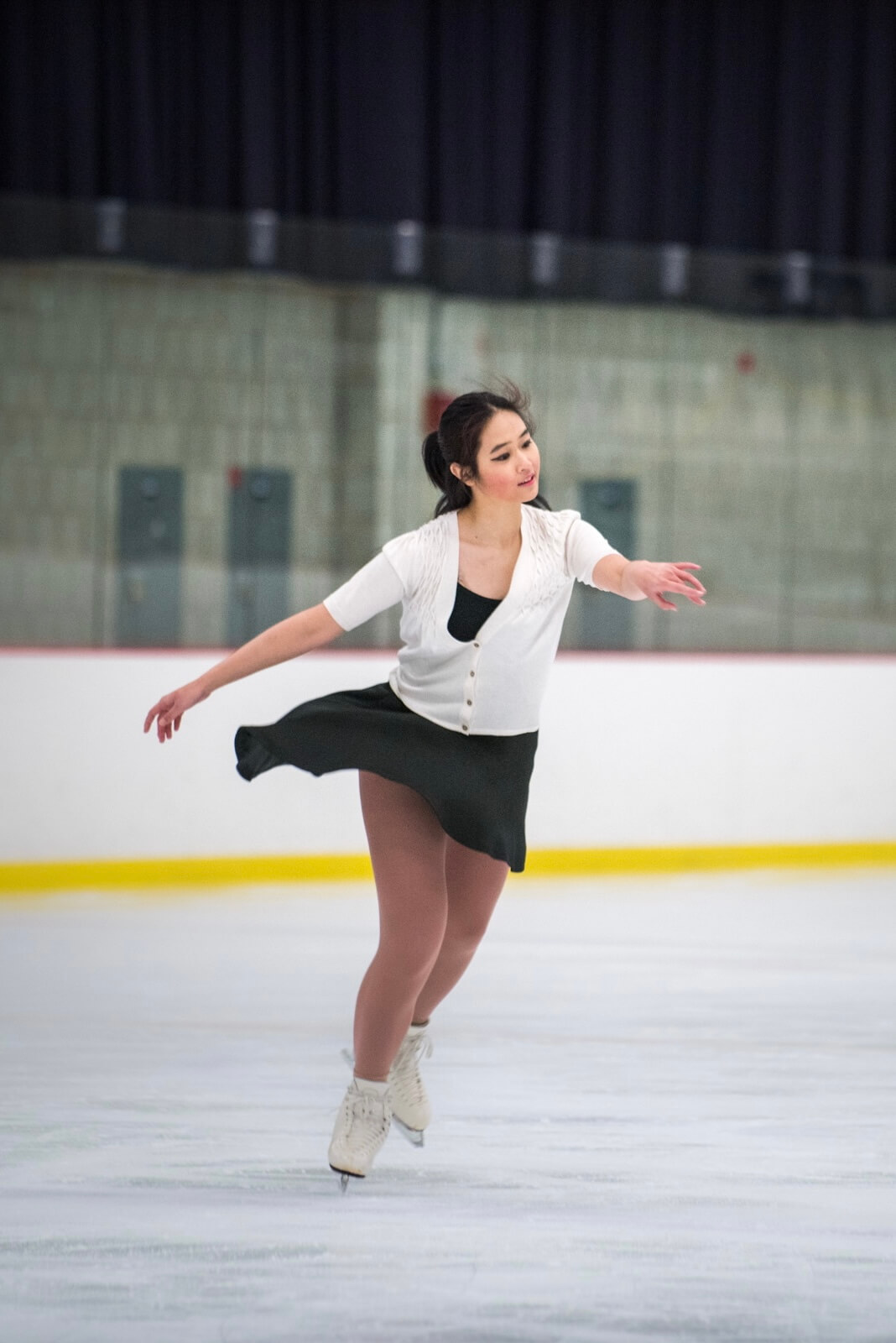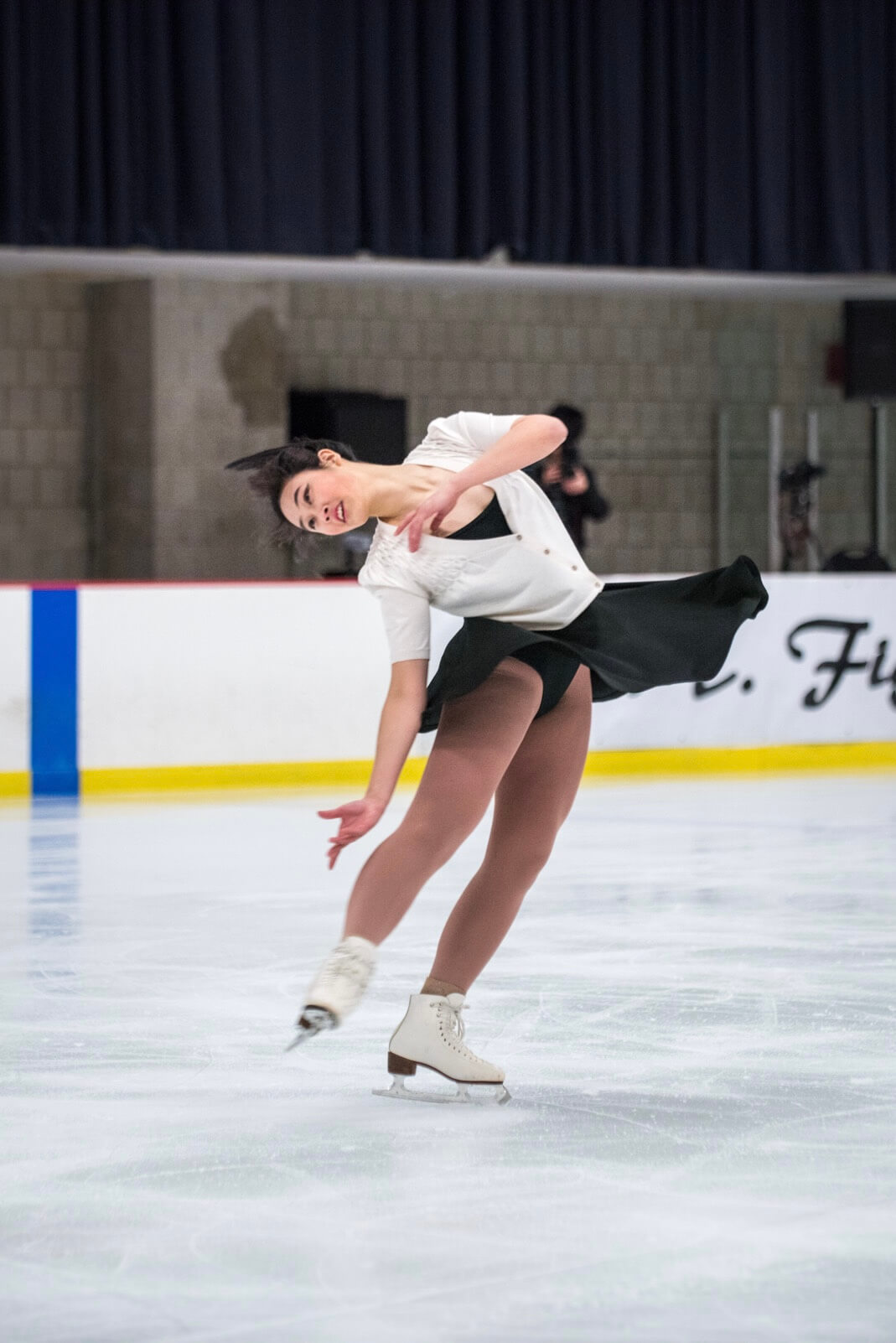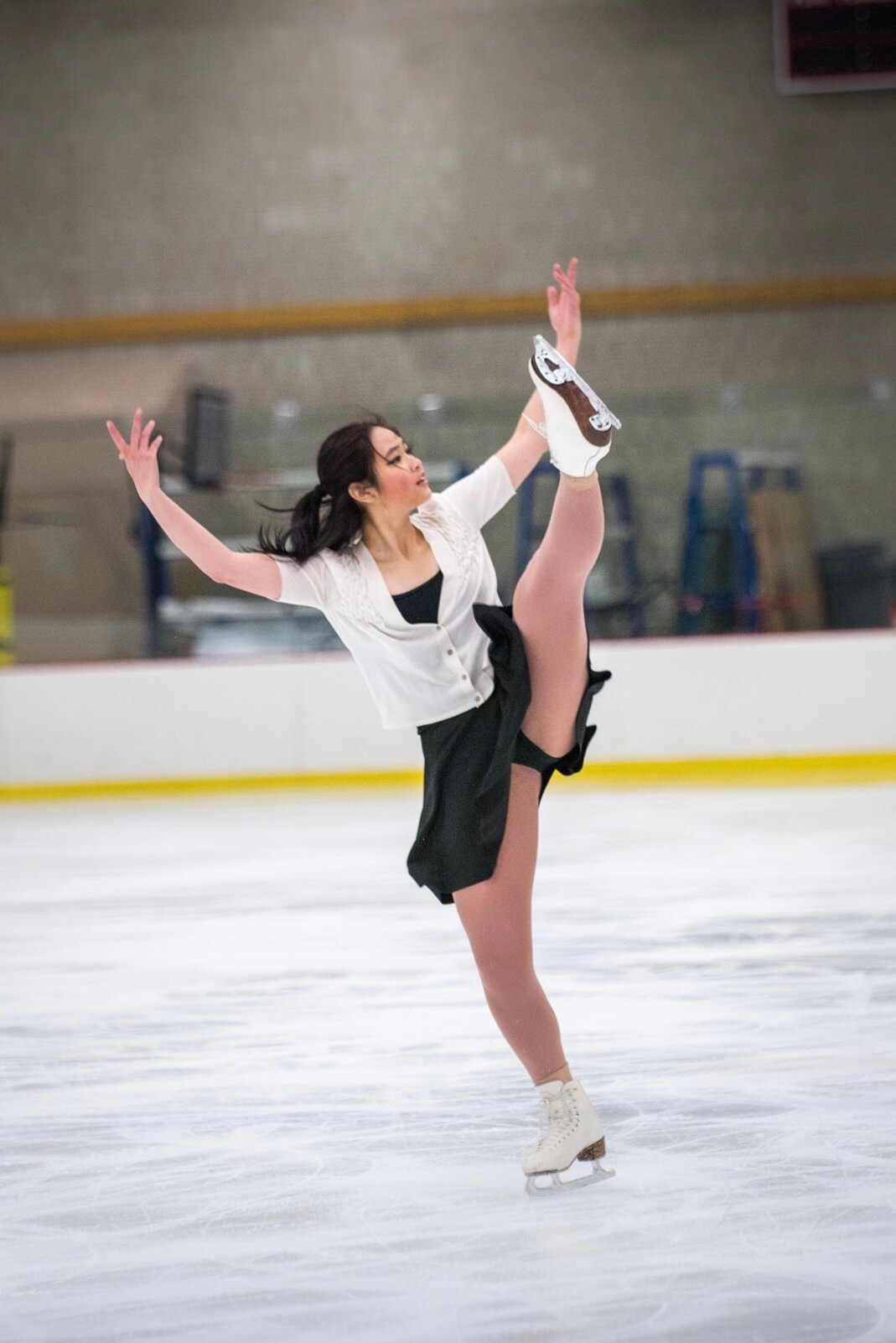 Photographs from my performance by Rachel Wu
Reflection
My duet with Sabina "Nirvana," my other solo "Gate of Steiner," and this program "Moments," all choreographed and performed during the 2017-2018 season, ultimately echo my efforts to cope with anticipatory grief. Fortunately, more than five years after his diagnosis, my father is alive and well. While fears about how the future will pan out still linger closely, I am acutely aware that I would regret letting those fears overshadow the wonderful times we have had and continue to experience.
"Meeting you was the best thing that ever happened to me. You made me so happy. I don't want you to be lost or afraid or anything like that. From here on out, I know things might be hard sometimes. But no matter what, please don't ever regret the time we spent together. Is that too much to ask?" ~ Nagisa Furukawa
"I won't regret a thing. Thank you." ~ Tomoya Okazaki